Small Business Center
At AmeriHealth Caritas District of Columbia (DC), we are always looking for new ways to improve the health and wellness of our enrollees. We know that many of you own small businesses and understand the challenges faced by small business owners in the District of Columbia. We also know that opportunities to make more of a profit can lead to better health, so we created the Small Business Development Program to provide business owners with help tailored to their businesses' needs.
The first cohort of the Small Business Development Program began on June 23, 2020. Eleven businesses participated in the program, including Bamboo Beginnings, Collaborative Communications, D. Hines Health Care Consultants, Dream Health Group LLC, E.V. Davis Enterprise LLC, Haute Hair Wigs and Extensions LLC, Lisa Fitzpatrick and Associates Md-Pc, The Aquiline Group LLC, The Mecca Group LLC, Transformative Solutions, and Xzotech Sign and Display Dba Fastsigns.
Learn more about the Small Business Development Program (PDF).
View our Cumulative CBE Spend graph (PDF)
---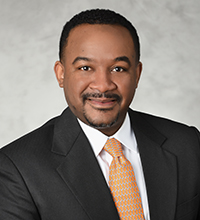 Featured small business — Tiber Hudson LLC
When Malik Edwards decided to reenter private practice, he knew joining Tiber Hudson LLC, a full-service law firm, would be an exciting opportunity and a great fit. The firm's attorneys and their clients were already familiar with Edwards and his work through his prior role as General Counsel to D.C.'s Department of Small and Local Business Development.
Read more about Tiber Hudson LLC.
View past featured small businesses:
---
Grow and Go Local DC!
We provide resources to help develop small and local business enterprises, thus increasing the pool of qualified Certified Business Enterprises (CBEs) in the District. We mentor our Small Business Enterprise (SBE) and CBE service providers by giving them access to our network of business resources to accelerate their success and create jobs and revenue for the District.
Our program includes technical and general assistance to help local businesses file CBE applications. We value being a part of the District's business community and firmly commit to supporting and strengthening it by providing opportunities for SBEs to thrive and by investing broadly to ensure economic success for District residents.
Look for notices of our special events, training sessions, and marketplace activities to strengthen business connections and encourage partnerships.
Grow and Go Local DC! contact information
If you would like to connect with us and learn more about our Grow and Go Local DC! program and how you can participate, please email Jennifer Abreu or call 202-617-2901.
See how you can become a certified small business.